testimonials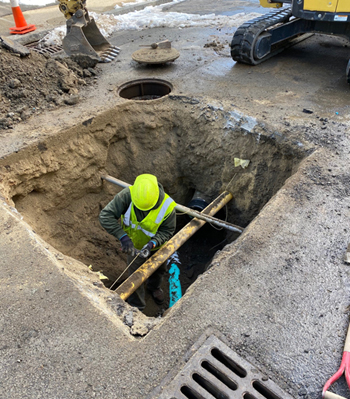 Sewer Spot Repair
To whom it may concern, we recently had a sewer blockage at our home in Dorchester.
We first had a camera company locate the problem and they showed us that our sewer lateral was running under our neighbors newly paved driveway. We knew this was going to be no easy fix because of the location. As we reached out to a few of the BWSC approved contractors, one in particular seemed to be the best choice for us. The owner of M Keane Excavating Inc of Quincy was one of the fastest responses we got. On arrival Mr Keane put our minds at ease immediately, Also gave a great price but said he would like to investigate more before digging up our neighbors new driveway. He made some calls and got the main sewer on our street pumped and cleaned at no cost to us.
Then he asked if he could have a different camera company do a new video to get the exact location of the broken pipe.
Thank God for M Keane, turns out the first camera was totally wrong.
Our pipe was nowhere near the neighbors property. M Keane Excavating came out the next day and made the difficult repair in a timely fashion. My husband is in construction and he oversaw the work start to finish.
He was very pleased.
We would highly recommend M Keane Excavating Inc for any underground work.
His crew was very professional and worked very well together.
Sincerely
Ms Davy
---
July 2015
M. Kean Excavating has performed utility work in the City of Quincy for over 20 Years. Mike is a true professional who takes pride in his work and always arrives on the job with clean equipment and a competent crew that will meet or exceed expectations. Last winter, many of our fire hydrants were damaged by plows and snow removal equipment. M. Keane Excavation was contracted to replace hydrants easing the burden on water department personnel. As always Mike and his crew were "top notch". I consider Mr. Keane to be a true gentleman and I highly recommend his company.
Mark Vialpando
General Foreman
Inspector
City of Quincy
---
July 2015
CES had an opportunity to work with Mr. Michael Keane of M. Keane Excavating Inc. of Quincy, MA on a municipal project with the Town of Nahant, MA in the fall of 2014. M. Keane Excavating proved to be very competent and knowledgeable regarding all water construction aspects and the main testing went very smoothly proofing out the contractor's work. Mr. Keane was a very competent construction foreman, who was able to provide exceptional management over project tasks, testing sub-consultants, and coordinate with our firm as design engineers and with town employees. His site work and water utility capabilities were above average and his critical path management capabilities were exceptional. We would highly recommend this firm for water utility related work.
Daniel J. Coughlin, P. E
Principal
Coughlin Environmental Services, LLC